When I've been in Brooklyn & not traveling & playing 45 minutes a night in "other places", painting this shirt is what's been up with me. Well, I've also been caching up on reading several books, watching desirable viewings on Netflix & smiling a bunch. My friend Avery allowed me to destroy the back of her "I SHOULD HAVE TAKEN ACID WITH YOU" t-shirt. If you're wondering the paint is acrylic; idyllic for fabric. I'm alsooooooo proud to saaaaaay thaaaaat I riiiiiiide the "short-b(r)us(h)". Hopefully you give that an opposable thumbs up & not down like a lady I've been told about by a girl you may know about. As far as
c
o
l
o
r
goes....anything goes. I find painting so playful & peaceful. The greatest advantage to doing something that is almost as delicate as pruning leaves or trimming your bonsai tree is that all of your thoughts become like your action...peaceful and tranquilized. Simultaneously, music & podcast can be digested much more easily when you're focusing on something so delicate as wet paint.
I find all of these colors visually appetizing. As if candy was crushed and mixed into a certain blend, then applied to your "canvas".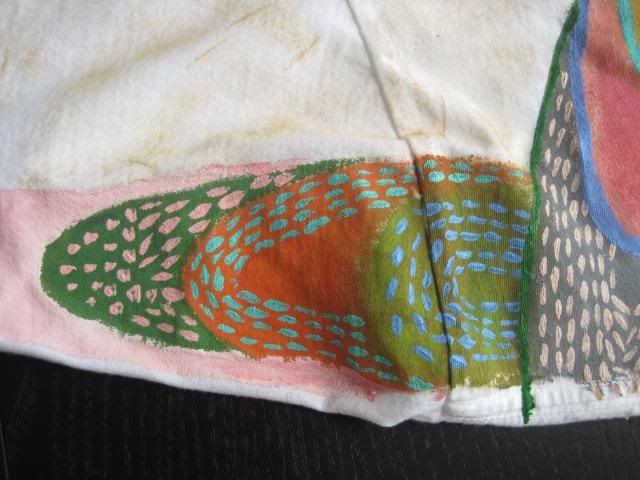 What are these? creepy crawly sweet bugs roaming around your shoulder blades instead of backyard's grass blades?
Well obviously, as soon as I completed the dotting sequence, I though...WATERMELON!
Bloop! (Farrah "Faucet" drip on my shirt!)
Purrrrrrrfect 10!
Something from something. I had something, realized, OH!, I can make this from that. Stevie Wonder
KNOWS
what I'm sayin'!
crrrreeeeeeepin your way
Land of the blushing bathing
Brachiosaurus
contaminating all the water

pink

.
Why do they blush so much?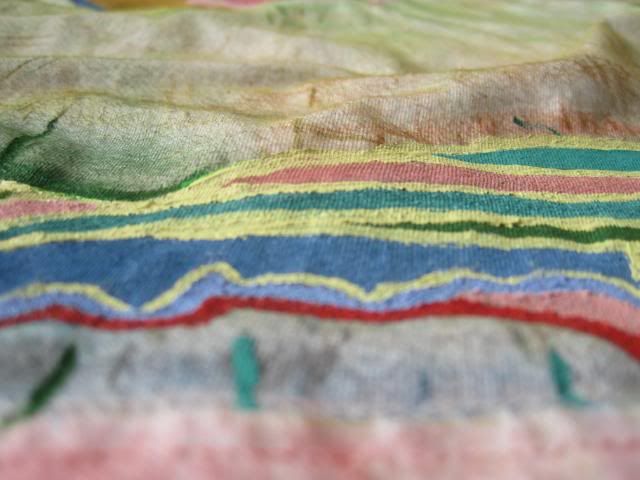 Red shirt gentleman,
Stands spread out and grand,
Radiate he can,
Sprays sunshine on land.
There is no art with out the color palette
Before I go, I want to dedicate my paint time & thoughts to one of the most shining stars of a person that I have ever known. He stood out as a drummer & all around music lover. He WAS the party favor. And at times he was any occasion's greatest attraction. He left a long lasting legacy for all of his friends & family to cherish for many decades. The spirit that he was full of was of a high grade of engaging beauty and love. David Osbourne is his name. If you ever met him, you know that I am just stating the obvious. Nonetheless I do feel inclined to share a bit of my sympathy towards this situation. It's difficult to type this without feeling a knot in my throat and pain in my chest but I must write this because David always told his friends that he loved them before departing their site. So he means the world to me. People like David make the world such a fine place. I selfishly & strongly wish that I could give David one more hug.
David Osbourne...You'll live in my mind & heart until I take to the earth again.
Underneath the stars we remain forever.
Ciao! Ronnie.